Featured Items
Green Mountain Featured Items
New products, innovations and specials from Green Mountain Barrels.
Products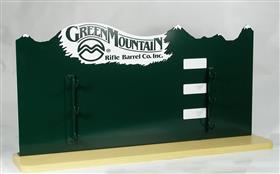 Dealer Counter Top Display Rack
Dealer Display, 3 Rimfire Barrels - Rifle rack for Rimfire barrels. - High quality counter top display rifle rack. Made with a green and white sheet metal upright with mounts for 3 barrels (barrels not included) and a wood base. This gun display can be purchased individually. Dealers contact us for Dealer Plan that supplies a free rifle display....
Green Mountain Adult Cap
Green Mountain Adult Cap, Green / Khaki, Green Mountain embroidered logo, leather sizing band with brass locking clip.

Rifle Stock for the 16" Finned Military Barrel
Custom stock for the 16" Finned blue or stainless military style 10-22 barrel. This stock is a blend of military styles of the WW2 era.

The image shown is representative only. Actual item for sale ONLY includes stock....