Ruger 77/22 Barrels - .22 LR and .17HM2
Ruger 77/22 Barrels - .22 LR and .17HM2
Green Mountain still offers replacement barrels for your Non-Threaded Ruger 77 22 .22 Long Rifle. Receiver stub requires threading for rifles with threaded receiver.We've got options so you can get the Ruger 77 22 replacement... Expand
Products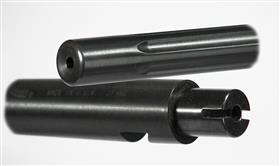 16.5" Blue Fluted Sporter 1:9 Twist .17HM2 Chamber
Ruger replacement barrel for the 77/22 LR in .17HM2 chamber. Fluted Sporter .920 diameter for about an 1½ and then tapers down to .600 @ the muzzle....

16.5" Stainless Fluted Sporter Barrel .17HM2
16.5" Stainless fluted sporter 17 HM2, 416SS, button rifled target grade rifling and .17HM2 chambering for optimum performance, thermo stress relieved, air gaged, .920 for aprox 1 1/2", then tapers to .600 at muzzle. Drop in replacement for Ruger tapered barrel 77-22, .17HM2.

20" .17HM2 Stainless Fluted Sporter for the 77-17
20" .17HM2 Stainless Fluted Sporter for the 77-17, 416SS, 1:16 Twist, button rifled, thermo stress relieved, air gaged. Drop-in for Ruger tapered barrell 77-17